Troop 799 - Tigard, OR
Written by Dean Kirkpatrick
Sunday, 01 January 2017 22:04
Troop 799
White River
Sno-Park
Family Outing
January 22nd

We would like to invite all Webelos I and II to join us for fun in the snow. We will meet at Durham Elementary at 8:30 AM Sunday January 22nd. All family members are welcome. We will supply lunch, hot chocolate and hot cider for everybody. Please bring any snacks you might want throughout the day. Also bring any snow sledding equipment you might have. Dress warm. We hope to see you there.
To reach the Sno-Park, drive on US 26 to the Highway 35 junction, and follow Highway 35 to well-marked White River West Sno-Park, on the left, just before the bridge over the White River (if you cross the bridge, you've gone too far!). The Sno-Park is quite large, and includes a year-round restroom at the forested west side. Park near the north edge for easy access to the snow trails.
Please RSVP so we can plan the food. Need to know by Jan 16th.
This e-mail address is being protected from spambots. You need JavaScript enabled to view it
Dean Kirkpatrick
503-329-1050
Last Updated on Wednesday, 15 March 2017 13:48
Written by Dean Kirkpatrick
Sunday, 02 October 2016 20:51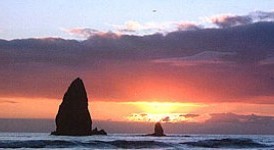 Camp Magruder
Annual Family Outing
Nov 11-13
Camp Magruder is our annual family outing. All family members are invited. We stay in cabins with heat, bathrooms, and showers. All the cooking is done for us, all we have to do is help set up, eat, help clean up and have a lot of fun. It is a short walk to the ocean, and the beauty of our coast.
We also like to use this event to invite Webelos and their families to join us and get to meet our families before that important time of crossing over into Boy Scouts.
We will meet at Camp Magruder starting at 4:00pm on Friday and leave by approximately 11:00 on Sunday.
I hope to see you all there! Troop 799
Contact info:
Dean Kirkpatrick 503-329-1050
This e-mail address is being protected from spambots. You need JavaScript enabled to view it
Last Updated on Friday, 14 October 2016 17:27
Written by Mike Muralt
Sunday, 25 September 2016 21:16
Come join us for an easy 2.5 mile (each way) hike to Pamelia Lake in the Jefferson Wilderness area.  This should be a good learning trip for younger scouts who haven't done any fall backpacking, and a fun hike for those more experienced scouts.  There aren't any big hills to climb, just stroll through the beautiful woods along a creek and enjoy the views of mountains and old growth forest. 

Fishing is supposed to be good at the lake, so if that interests you, bring your fishing equipment (and fishing license for those 12+ years old).

This trip is limited to 12 people (scouts and adults), so get your permission slip turned in before we hit the limit!
Last Updated on Sunday, 25 September 2016 21:18
<< Start < Prev 1 2

3

4 5 6 7 8 9 10 Next > End >>


Page 3 of 21
Sir Robert Baden-Powell Quotes
"There is no teaching to compare with example."